Befriended: 5 devotions, based on David & Jonathan, to help you (& your kid) be a great friend
Written by Brian Jennings, Posted in Blog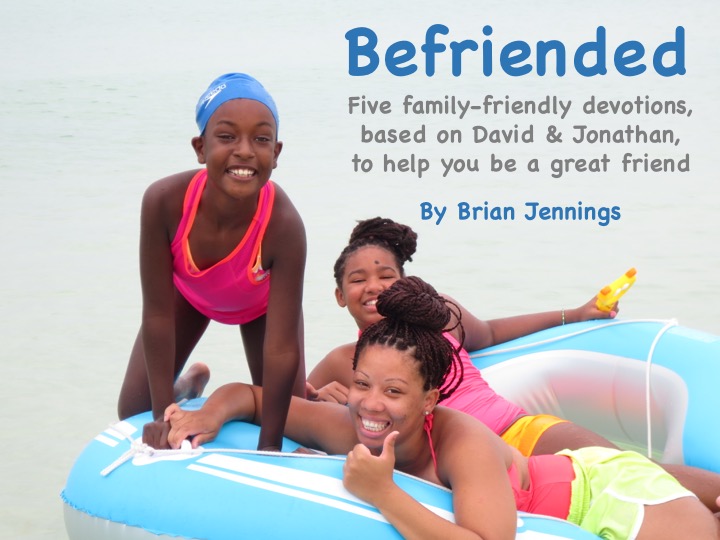 I hope you're experiencing rich, encouraging, life-giving friendships. Sadly, statistics say that people are lucky to experience one deep friendship in their lifetime. If you aren't investing deeply in friendships, a host of huge issues are at play:
You are missing out on one of the most beautiful gifts God has given.
Others remain lonely because of your isolation.
Communities weaken without relationships (social ills, prejudices and unmet needs).
The Kingdom of God isn't served like it could be.
Whether your friendships are great or non-existent, we all have room to grow. God shares eternal truths about friendship with us, and the goal of these devotions is to learn from Him, especially learning from the amazing friendship of David and Jonathan.
If you will be doing these devotions on your own, I encourage you to ask a friend to also go through this study and then get together with you to talk about what you both learned at the end of the week.
If you have kids, I'm writing each devotion with them in mind. Please include them. How wonderful it will be for your kids to learn with you. As you go through the week, you'll have opportunity to talk about how you're putting your learning into action.
Whatever you do, don't skip the fifth devotion. Please.
These devotions are simple to complete, but learning to be a God-honoring friend requires more than a few minutes of reading. The power in these devotions comes from God's Word, your willingness to let God change you, and your courage to grow.
For more helpful blog posts or to find out how to purchase my book, "Lead Your Family: 12 Ready-To-Use Ideas For Spiritually Leading Your Family," go to www.brianjenningsblog.com.
Blessings,
Brian
Devotion 1: The secret to friendship
Pray: God, help me learn from you about friendships this week. I'll listen and I'll put what I learn into action. Thank you for caring enough about me to help me understand how to have great friendships.
Keith Manry says, "Of all the things that cause me to stop and wonder, one of the questions that I simply have not been able to come up with an answer to is why so many people are looking for meaningful friendships and yet so few actually find them. It seems everyone wants a friend, but few people actually have real "friends." Why do you think so many people struggle with having healthy friendships?
Saul started as a good king of Israel, but he became prideful and paranoid. He disobeyed God to such a point that David was chosen to be the next king of Israel. Saul's son, Jonathan, became best of friends with David.
Read I Samuel 18:1-4
What does it mean to love a friend as you love yourself?
Jesus affirmed this attitude. He said, "Love your neighbor as yourself" (Mark 12:31).
Jonathan gave David gifts as a way to show how much he valued their friendship. Do you think Jonathan expected David to give him something in return?
Many people spend all of their time searching for the perfect friend, or judging how great (or not-so-great) their friends are. This never leads to great friendships, because the motivation is selfish. The secret to friendship is this: If you want to experience great friendships, don't focus on finding the perfect friend, but focus on being a great friend. It's still really, really important to make sure your best friends will be good friends. Please do that. However, make sure that you focus on being a great friend to others. The Bible is constantly teaching us to seek to serve rather than being served, and to put others needs before our own (Philippians 2).
Action Steps:
Read Proverbs 27:17
Think about how can you sharpen, encourage and help your friends? How can you be a
better friend?
Pray: Ask God to help you focus on being a great friend to others. Take some time to be
quiet, listening for Him to place some ideas on your heart about how you can do this.
Write them down.
Devotion 2: True friends are vulnerable
(We're starting today with a story about Play-Doh, but you could have even more fun by trying this experiment.)
Pray: Ask God to help you listen well to Him today.
Have you ever forgotten to put Play-Doh back in the container? It gets really hard and you can't work with it anymore. Imagine if you left two blocks of Play-Doh out of their containers for a few days. Then imagine trying to mold those two blocks of Play-Doh together. How's it going to go?
Lots of us value being tough and independent. We want to make sure that we control everything around us so that nothing bad will happen to us. When we do this, we become like that hardened block of Play-Doh – we can't attach and get close to anyone else. That's why if you want to be a great friend, you have to become vulnerable.
Read I Samuel 19:1-7
Jonathan would've been the next king of Israel, because he was the son of King Saul. God had other plans and had Samuel anoint David to be the next king. Usually, when people have a chance to grab power, they do whatever it takes. They step on people, cheat and even kill. We see this time and time again, especially in politics. But Jonathan was very different than the normal guy. He submitted his life to God's plan. It's no wonder that David was so thankful for their friendship. Jonathan gave up his security, his safety and his power. He even risked his relationship with his dad, who later would try to kill him for his loyalty to David.
How did David and Jonathan demonstrate being vulnerable in their friendship?  
Action Steps:
Answer the following questions.
a. Are you a vulnerable friend? Do you give-up things in order to be a good friend b. Are you willing to tell your friends when you need help or prayer? c. Do you lack close friends because you won't allow people to get close to you? d. How can you grow in this area?
Pray: Ask God to soften your heart. Also, ask Him to help you know when you can trust a
friend enough to become vulnerable with him or her.
Devotion 3: True friends are thoughtful
Pray: Tell God that you are willing to become a more thoughtful friend. Tell Him that you are willing to learn from Him today.
What's the most thoughtful thing someone has done for you this year? What made it so thoughtful and kind?
In his first seasons with the Brooklyn Dodgers, Jackie Robinson, the first black man to play Major League baseball, faced hatred nearly everywhere he traveled–fastballs at his head, spikings on the bases, brutal nicknames from the opposing dugouts and from the crowds. During one game in Boston, the taunts and racial slurs seemed to reach a peak. In the midst of this, another Dodger, a Southern white named Pee Wee Reese, called timeout. He walked from his position at shortstop toward Robinson. He put his arm around him, making it clear to the world that Robinson was his friend. Reese demonstrated great thoughtfulness in that moment. (Watch the movie's depiction of this scene here.)
The thing about thoughtfulness is that it requires that we think. Oh dear. Ha ha. Actually, I have great news. It doesn't require any super math skills. All you have to do is to let God start influencing your mind and heart.
Read I Samuel 20:1-23
Why was this a good plan?
How did David show thoughtfulness to Jonathan? 

How did Jonathan show thoughtfulness to David? 
Action Steps:
Let's put this principle into action. List two or three friends (or people who could be your friend with some work), pray about how you can do something thoughtful for them, listen for ideas God may place on your heart, write them down and then pick at least one to do today or tomorrow.
  Friends                "Thoughtful" Ideas                  
Devotion 4: True friends are reliable
Pray: Ask God to teach you something today that will help you be a better friend.
Review: Did you have a chance to be a thoughtful friend? How did it go?
Yesterday we read about how David and Jonathan devised a plan to keep David from being killed by Saul. Let's see how the rest of the story goes.
Read I Samuel 20:24-42
What did Jonathan learn about his dad's intentions?
What would you have done if your dad tried to kill you? Note that Jonathan still carried out the plan. He was reliable.
The friends shared a tearful goodbye. In their culture a kiss was either a customary greeting, like a big hug between family or friends, or something romantic. In the Bible, it's almost always one of the first two things. In this case, it's like a big hug between great friends. They didn't know if they would ever see each other again. Have you ever had a hug like this?
Jonathan asks David to remember his descendants. David proved reliable in this. (To read a really cool way that he did this, read II Samuel 9.)
Proverbs 17:17 says, "A friend loves at all times."
Are you a reliable friend? Do you keep your commitments to your friends?
How could you be more reliable (committed and trustworthy)? 
Action Steps:
We've learned about friendship over the past four days. If you need Godly friendships, ask God to help you do the following:
To commit to praying for Godly friendships
To put your focus on becoming a Godly friend (vulnerable, thoughtful and reliable).
To be patient for friendships to grow (they probably won't form overnight)
We've learned a lot, but tomorrow is the most important one of the week. Don't miss it.

Devotion 5: You have a friend
If you are wondering why you aren't a better friend, it always boils down to heart issues. The principles we've learned are really important, but there's something deeper we must address:
What is it that keeps you from being vulnerable? It's pride.
What is it that keeps you from being thoughtful? It's Selfishness.
What is it that makes you unreliable? It's laziness or apathy.
You can work and work at being a great friend, but you'll always fail until you let God heal, mend and change your heart. Only God can change our hearts.
Write down some characteristics of the perfect friend:
Guess what? You probably just described God. He's the perfect friend.
How has God demonstrated being vulnerable?
How is God thoughtful?
How is God reliable?
Do you know what Jesus said in John 15? He said, "You are my friends if you do what I command. I no longer call you servants, because a servant does not know his master's business. Instead, I have called you friends." Wow! God is our friend.
If you want to experience great friendships, you must not expect your friends to give you what only God can deliver. Only God can be the perfect friend. He's also the perfect Savior, Master and Father. He's perfect in every way.
Friends of God make the best friends of people, because God changes their heart, and we all need a changed heart. Your hope for lasting, deep, world-changing friendships rests in your friendship with Jesus.
He's made a way for you to be called His friend. To accept Him, we admit we need him, we place our trust in Him, we repent, and we are baptized (John 3:16, Romans 10:9, Acts 2:38). Only if you see that Jesus gave his life to be your friend, will you be the friend you want to be. But God will change more than just your friendships. He'll change your whole life.
Do you expect your friends to be perfect, instead of knowing that God is the only perfect friend?
Do you believe that God is your friend?
How is God's friendship changing your other friendships?
As you think about these five devotions, what have you learned? And do you have any new commitments? What are they?
Last Word
I pray that these devotions helped you see how God can speak to us when we read the Bible, pray, listen and obey. You can keep doing this. Have you read Proverbs or Philippians lately? Oh my goodness, they are so amazing. God teaches me new things every time I read them. It' the same with every book of the Bible. Pick one and keep going next week.
If you would like to share anything that you've learned or experienced with me, I'd love to hear about it. You can email me at brianjenningsblog@gmail.com.