Where confession leads
Written by Brian Jennings, Posted in Blog, Lead Yourself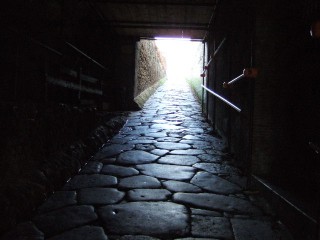 II Samuel 11-12 tells the sordid tale of King David's tragic failure. The shocking story exposes the dirty path of his sins: Laziness. Lust. Lies. Adultery. Murder.
When Nathan, the prophet, rebuked David, the gravity of the sin finally surfaced. David was a broken, contrite man. He did not sound like a king, but like a prisoner sentenced to death, begging the judge for mercy.
Have mercy on me, O God,
    according to your unfailing love;
according to your great compassion
    blot out my transgressions.
 Wash away all my iniquity
    and cleanse me from my sin.
 For I know my transgressions,
and my sin is always before me.
(Psalm 51:1-3)
David's sin had haunted him. He couldn't escape it. "My sin is always before me." Only the Lord could erase his guilt. And the Lord did. In David's brokenness, God bathed him in grace.
Confession begins with brokenness, but what follows is beautiful. David's prayer in Psalm 51, which was written after his great sin, tells where confession leads.
1. Confession leads to forgiveness (Ps. 51:7-10)
Cleanse me…blot out my sins…create in me a pure heart.
(Psalm 51:7-10)
The Shawshank Redemption's classic scene shows its hero crawling through sewage pipes, hand over hand, inching away from captivity and towards freedom. Finally, he spills out the end of the pipe into a creek. He rips off his soiled shirt and lets the rain wash over him.
David keeps praying, "Cleanse me," which carries the idea of a thorough washing of metal until it's perfected. It also would've reminded people of the washing of a man with leprosy to prevent the spread of disease.
Sin stains our hearts. Only God can remove its filth. And when he does, we are free indeed.
2. Confession leads to God's presence.
Do not cast me from your presence
    or take your Holy Spirit from me.
(Psalm 51:11)
David rightly realized the enormity of his sin. It jeopardized his relationship with God – not because God turned away from him but because he turned away from God. When Samuel anointed him king, the spirit of the Lord came upon him. Meanwhile, Saul turned from God and I Samuel 16 says, "The Spirit of the Lord had departed from Saul." David saw how a person could reject God's presence.
I, too often,  take God's presence for granted. I dismiss my sins as "a struggle," instead of rightfully calling them what they are and acknowledging what they do.
It is God's presence which helps us overcome temptation. "Let me sustain it," David says.  How dreadful to return to our sin, just as a dog returns to its vomit (Proverbs 26:11). But how beautiful to walk with God.
"Better is one day in your courts than thousands elsewhere" (Psalm 84).
3. Confession leads to joy. 
Restore to me the joy of your salvation
    and grant me a willing spirit, to sustain me.
(Psalm 51:12)
Where sin walks, despair is not far behind. But confession leads to forgiveness, which paves the way for joy. Nothing produces more joy than the joy of knowing our salvation is secure.
When friendships and marriages are restored, we rejoice. We rejoice even more when someone is restored to the Lord. When the Ethiopian was baptized in Acts 8, "he went on his way rejoicing."
4. Confession leads to witness.
Then I will teach transgressors your ways,
    so that sinners will turn back to you.
(Psalm 51:13)
Once we have received God's grace, the shackles that prevent our ability to genuinely share the gospel fall away. Sin and guilt quiet our lips and destroy our authenticity.
David sang, "Then I will teach transgressors your ways." If your witness is muted, perhaps you need to confess a sin.
Good News
When Nathan confronted David, rebuking him for his sin, David did not sing. He did not pen a poem. Those would come later. He merely stammered a few words, "I have sinned against the Lord" (II Samuel 12:13).  It was an honest, broken, simple confession. He spoke it to God in the presence of a Godly man (which is the Biblical formula that I encourage you to follow).
Do you know how long it took God to forgive David's atrocities? We don't even exit verse 13 before grace is poured upon David. A year of sinning, detailed with over eleven-hundred words, is forgiven in one verse. David's sin still brought grave consequences. But God forgave him, completely, fully, wholly.
If you think your sins are too grave to be forgiven, you're doubting the magnitude of the cross. Never underestimate God's grace. Never cheapen the cross. God will come to you in a heartbeat.
Confess. What are you waiting for?
Related: How to tank your life in 5 easy steps