Our Church's 3 Priorities During Covid-19
Written by Brian Jennings, Posted in Blog, Your Church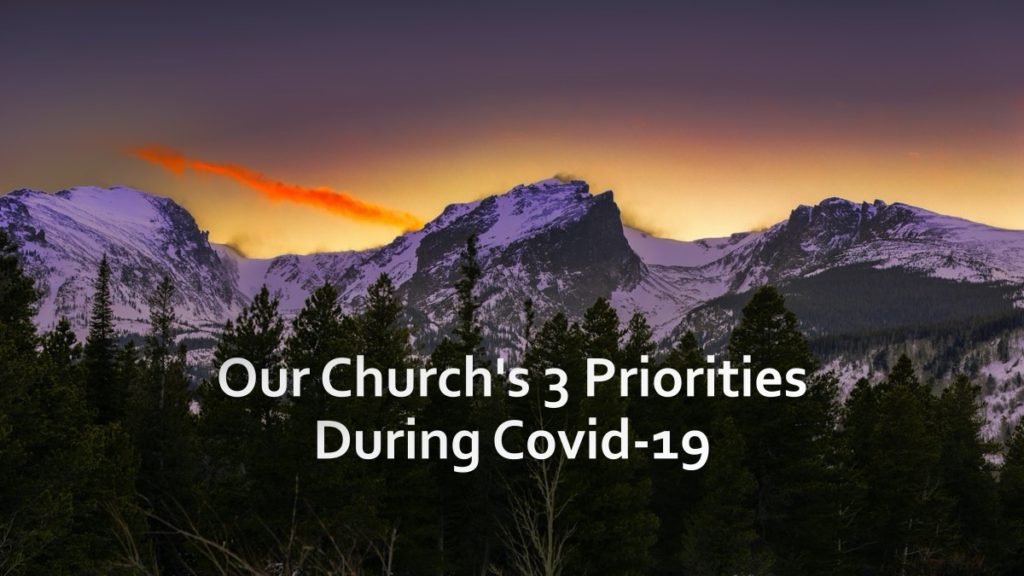 Lewis, Clark, and the Corps of Discovery explored their way towards the Pacific with an overarching belief: to find a river flowing westward was the ticket to success. Imagine their shock when they saw the Rocky Mountains. Instead of navigating waterways, they'd need to climb over one of the most unforgiving terrains on the planet. Ditch the canoes!
Tod Bolsinger's book, Canoeing the Mountains, tells how Lewis and Clark adapted and led their men through a seemingly impossible situation, and it unpacks foundational leadership principles. It was written for such a time as this.

Bolsinger differentiates between two types of changes:

Technical changes utilize the most-available solutions within the current environment. They are tweaks to a problem, like refining the preaching or adjusting the small group leader training.

Adaptive changes, however, necesitate "adapting to the changing environment or circumstances so that new possibilities arise for accurately seeing, understanding, and facing challenges with new actions." Adaptive leadership realizes three characteristics:
1. There's a changing environment with no clear answers.
2. There's a necessity for leaders and followers to learn. The leader must transform.
3. The new solutions will result in some loss.

Bam. Bam. Bam. We're experiencing all three.

So what is a church to do? Providing lots of hand sanitizer would be a technical (and woefully deficient) solution. People's whole lives have been uprooted. Technical solutions won't cut it for most churches. Our church leadership recognized that our mission and values haven't changed, but our entire environment has changed. So we made adaptive changes.
As I evaluated our staff and ministry team leader roles, I realized that some of their big responsibilities were now minimized or unnecessary. I guessed that others would feel the panic of uncertainty that I was feeling if we didn't simplify and find clarity quickly.

So we evaluated our current needs (for church members and our neighborhood), discussed how our roles could change, and created a new, fluid document with three big priorities. We assigned leadership to each priority. Everybody gave input, volunteered for adjusted responsibilities, and we are all enthusiastically on board.
I'll list our three big priorities, a sampling of the initiatives under each priority (not fully listed), and give a few comments about each. This may not be exactly what your church or organization needs to do, but it might get you moving in the right direction.
Caring – Help people love their neighbor.

Caring for HP folks

Small Groups & Classes (caring for one another)
Disconnected (caring for attendees who are not-yet connected to a small group or unable to be online)
Launch of new virtual groups
Students, Kids, Parents
Online prayer forms and responses

Caring for our neighborhood

Food Pantry (designed a new system to give emergency food and are looking to allocate additional resources/manpower here)
Neighbor needs (caring for other needs nearby)
Caring for partner organizations and schools

Caring for our city

Note: We want to put tons of energy here. Church friends, don't let other tasks take more time and energy than this. Care for people and align your teams to do the same.


Spiritual Formation – Help people love God.

Online worship experience
Student and Kid's online resources and encouragement
Midday prayer on Wednesdays
Daily devotions (linked to blog utilized by a number of churches)

Note: Our mission to make disciples has not changed. As people ponder their own mortality and the instability of our world, some will begin to listen to the longings of the heart. People need to be formed by God more than ever, so we'll help in creative ways. One caution: now is probably not the time to spend most of your time creating new content. Can you create some content AND utilize content from others SO THAT you and your church give lots of time to meeting needs of others? And while you're at it, can you introduce new ways to bring about transformation that people may not have tried a month ago?


Tech – Improve a crucial tool for us to accomplish the first two priorities.

Website updated for current needs
Video capabilities overhauled (this was the area where we needed the most work so we designated manpower and resources)
Communications (phone, Zoom, database…)

Note: Our former set-up greatly limited our abilities to chase the first two priorities in this adaptive environment. So this became a third priority, at least for the time being. We are trying to find a balance. We're committed to not obsessing with every pixel or trying to master tech stuff that would require most of our energy and resources. We're also trying to make enough improvements so that we can function virtually, provide ways to hear about and meet needs, and make any production very watchable for our people. We don't need to compete with Pixar or Google, but we do need to have enough quality so that people can experience community, care, and teaching.
I hope this helps you think about making adaptive changes and providing clarity in how your team will lead.

Last thing: I'll gladly provide you with a complete, 4-week series (sermon manuscripts, discussion guides, and graphics) to help your church learn to pursue God's truth and peace, even in this hostile world. Wouldn't it be nice to free yourself up to do more equipping and caring during this season? And doesn't your church need this as we ramp up to the upcoming election?! Click here.

Photo by Luke Wass