Are you thinking of quitting?
Written by Brian Jennings, Posted in Your Church, Your Family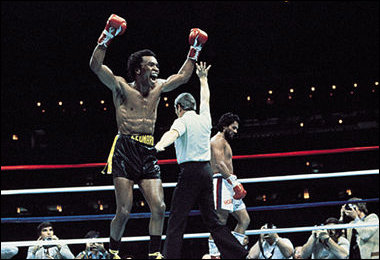 Roberto Duran was the most menacing boxer in the world in the late 1970s. In 1980 he outboxed, taunted and humiliated a young American star named Sugar Ray Leonard. But nine months later, Leonard used his speed to exact revenge. He danced around the ring, crushing Duran with jabs and mockery. Humiliated, the toughest man in boxing uttered the words that shocked the world: "No mas." In the middle of the round, Duran quit.
In your spiritual life, some of you feel bloodied and bruised. You volunteered somewhere and it didn't go like you expected. Your devotions lack passion. The Bible study or small group that used to bring you life is no more. You tried to reach out to your friend, but they rejected your invitation. You're thinking about quitting.
In your family life, some of you feel like you're stumbling towards the mat. The verbal blows have weakened your will. Your disappointment in your kids has left you feeling like a failure. You're thinking about quitting.
I beg you, remember that God promised that He'd be faithful, even when we face troubles – especially when we face troubles. Remember that Jesus, himself, faced troubles. He understands your pain. He knows your sorrow. So don't quit now. Don't quit today. Hang on. Take a small step for a better tomorrow. And pray.
Whatever your circumstance, find the good thing that you can do.
 "Brothers & sisters, never tire of doing what is good" (II Thessalonians 3:13).
            "Let us not become weary in doing good, for at the proper time we will reap a harvest if we do not give up" (Galatians 6:9).
            "I consider my life worth nothing to me; my only aim is to finish the race and complete the task the Lord Jesus has given me – the task of testifying to the good news of God's grace" (Acts 20:24 ).
Few things encourage us more than to see someone bloodied by life, but still serving, loving and pressing forward. Let your steadfastness strengthen our feeble souls.