Is "Righteous Anger" OK?
Written by Brian Jennings, Posted in Blog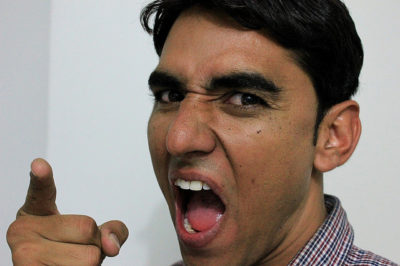 I used to think that as long as my anger was "righteous," it was good. Then I read the Sermon on the Mount. And then I noticed the rest of the Bible. And then my excuses felt pathetic.

So before I give you my final answer to the question, "Is righteous anger OK?" let me dismantle my own excuses for anger.
Excuse 1: "God gives us lots of freedom to remain angry."
We have to ignore stacks of Scriptures to reach this conclusion. Consider this small sampling.

"Mockers stir up a city, but the wise turn away anger" (Prov. 29:8).

"You have heard that it was said to the people long ago, 'You shall not murder, and anyone who murders will be subject to judgment.' But I tell you that anyone who is angry with a brother or sister will be subject to judgment" (Mt. 5:21-22).

"Get rid of all bitterness, rage and anger, brawling and slander, along with every form of malice" (Eph. 4:31).

But now you must also rid yourselves of all such things as these: anger, rage, malice, slander, and filthy language from your lips" (Col. 3:8).

"Therefore I want the men everywhere to pray, lifting up holy hands without anger or disputing" (I Tim. 2:8).
The Bible takes a definitive position. Holding onto anger = sin.
Excuse 2: "God gave us the emotion so it's always OK."
Yes, God did give us the emotion of anger. Anger can steer us in the correct direction. We can have anger, but Christ comes to help us get rid of it.

I hate that boys are trafficked. That anger helped drive me to support Blackbox International. All of the Blackbox leaders went through a season of anger, but we had to work through it in order to be helpful. Can you imagine if Blackbox operated out of unfiltered anger? We'd be a mess, causing more harm than good.

God created us to be propelled by anger, but he also knew we'd need to rid ourselves of that anger. He helped my heart become motivated by a compassion for trafficked boys, as opposed to an anger at traffickers. It was only then that I could be valuable to the organization. And it's only when my heart is filled with love (as opposed to anger) that I can be a peaceful presence in my family and community.

Pivot away from anger and towards love. I have to do this again and again. I'll rightfully get mad everytime I hear about what traffickers are doing, so I'll keep asking God to help me pivot away from drowning in that anger.

"In your anger do not sin. Do not let the sun go down while you are still angry, and do not give the devil a foothold" (Eph. 4:26-27).

When we let anger reside in us, we give the devil a place in our soul. Eventually, the anger will lead to destruction.

"Be quick to listen, slow to speak and slow to become angry, because human anger does not produce the righteousness that God desires" (Jms. 1:20).

Excuse 3: "Jesus acted on his anger in the temple."
This is the quickest excuse I've given for my anger. I've assumed that my anger was righteous anger. There's one glaring problem: Jesus' anger was always righteous, because he was always righteous.

Me? Not so much.

Should we be so confident in our emotional outbursts or should we approach our anger with a healthy suspicion? Maybe our anger is grounded in pride, ego, arrogance, or the insistence upon winning arguments. Maybe.

When Jesus ran the cheaters out of the temple, he didn't break any arms. If anger was his only emotion, he may have done worse than that. Instead, he boldly acted to protect those (especially the Gentiles) whose area in the temple had been turned into a den of robbers. There was love behind his table-flipping. His anger really was righteous.

Anger is tied to judgment. Don't try to take God's judgment seat. Only he can be a righteous judge of all the things that have caused us to be angry. We trust him to do what is just and right, so we don't need to keep our anger at others. When Joseph was surely tempted to seek revenge against his treacherous brothers, he replied, "Am I in the place of God?" (Gen. 50). Joseph relinquished his anger and judgment.

If God calls me to tip some tables, I will. But I'd better check my motives. I can't assume I'm as pure as Jesus. I'd need to proceed with humility, courage, and gentleness. Whew.
Excuse 4: "They really deserved it."
If we're honest, this is the real reason we usually let anger boil in us. This is the human inclination. It only took mankind two generations to kill someone. Cain's anger led to its natural conclusion (he killed his own brother).

Brant Hanson's fantastic book "Unoffendable" makes the case that the only time it's ok to stay offended is…never. To stay offended assumes the premise that we are perfect and thus deserving of perfect treatment. Hanson covers the nuances and acknowledges the big pains we rightfully may feel. He includes that forgiveness doesn't mean we must trust someone blindly again. But a commitment to forgiveness necessitates the hard work of releasing our right to be angry with another person…
…a person created in the image of God.
…a person loved by God.
…our neighbor, our brother, our sister.

"Love is not easily angered, it keeps no record of wrongs" (I Cor. 13:5).

I can't control how others will respond to me. That's alright. I'm only responsible for me.

"Make every effort to live at peace "as far as it depends on you" (Rom. 12:18).

Conclusions

We'll get angry. The more we know God, the more we'll be angry about the same things that anger him. But we should be slow to anger and we should evaluate our anger.
God tells us not to sin in our anger. Instead, we are to pivot towards love. We may need to have a conversation with someone so that reconciliation can take place. If so, we'll speak with gentleness and truth. The timing, tone, and motivation matter.
We have no right to stay angry at others. We recognize God's grace in our own lives which allows us to move towards love and forgiveness. Forgiveness is a process. We'll forgive over and over (70 x 7, if necessary).
Evil actions may propel you to righteous anger. God tells us to not harbor anger. So if it we allow anger to persist, bubble, or cause us to sin, it can no longer be called righteous. So to answer my question, "Yes, righteous anger is OK, but not for long."
I'm thankful for the massive amount of attention God gives this subject. He knew what unchecked anger would do to our souls, our families, our churches, our cities. God wants what is good for you and for me. What a blessing.