Racial Justice Resources
Written by Brian Jennings, Posted in Blog, Your World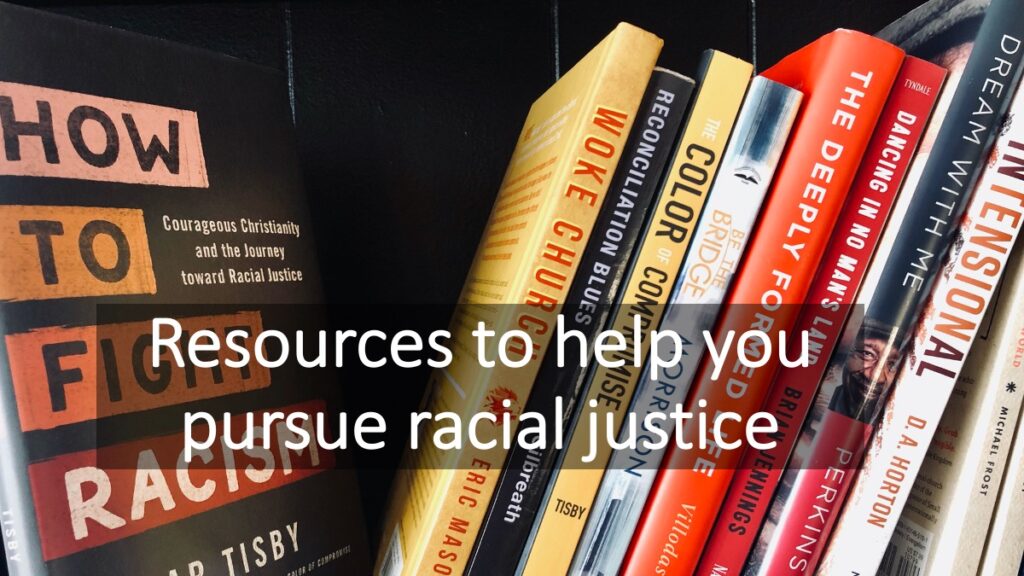 "Pursuing racial justice doesn't get us into the Kingdom, but it does demonstrate that the Kingdom has gotten into us."

Bryan Lorritts
Have you given a sincere, concentrated effort to understanding why so many people are pleading for racial justice?
I'm often asked to share resources to help people promote racial justice. Resources aren't all we need (I like Jemar Tisby's ARC: Awareness, Relationships, Commitment), but they are essential. So, here's a list with brief summaries. Thanks for pursuing this!
Books to get you started:
Woke Church by Eric Mason (sound Biblical teaching – a great place to start)
Under Our Skin: Getting Real about Race. Getting Free from the Fears and Frustrations that Divide Us by Benjamin Watson
Let Justice Roll Down by Dr. John Perkins (named by Christianity Today as one of the top fifty books that have shaped evangelicals).
Be the Bridge by LaTasha Morrison
How to Fight Racism by Jemar Tisby (Tisby outlines 3 practical steps that he calls the ARC of fighting racism: Awareness, Relationships, Commitment)
One Blood by Dr. John Perkins
Dancing in No Man's Land by Brian Jennings (unpacks principles to help you navigate a number of issues, including race, with truth and peace)
Welcoming the Stranger by Matthew Soerens & Jenny Yang (Want to learn about immigration – Biblically, historically, and from a policy-perspective? This is where you should start.)
The Deeply Formed Life by Rich Villodas (shares 5 ways to root yourself to Christ's heart – one of them being the pursuit of racial justice; best book I've read this year)
Books that are good but a little more challenging or little more broad in scope:
The Color of Compromise: The Truth about the American Church's Complicity in Racism by Jemar Tisby
Reconciliation Blues: A Black Evangelical's Inside View of White Christianity by Edward Gilbreath.
Building a Healthy Multi-ethnic Church by Mark DeYmaz (especially helpful for church leaders – HP leaders read it a few years ago).
A Different Mirror: A History of Multicultural America by Ronald Takaki (helpful for those who've never considered the plight of minority groups in America – not from a Christian worldview).
Uncle Tom's Cabin by Harriet Beecher Stoe (It changed the hearts of millions. It might change yours too.)
The Warmth of Other Suns by Isabel Wilkerson (Beautifully written stories of the great untold stories of American history: the decades-long migration of black citizens who fled the South for northern and western cities, in search of a better life. Your heart will be moved by the stories and your mind will be informed about this important history.)
Unarmed Empire by Sean Palmer (examining what beloved community looks like)

Intensional: Kingdom Ethnicity in a Divided World by DA Horton
The Elusive Dream: The Power of Race in Interracial Churches
by Korie L. Edwards
Roadmap to Reconciliation 2.0: Moving Communities into Unity, Wholeness and Justice by Brenda Salter McNeil , Eugene Cho,
Video
The book (and movie) Just Mercy provides an excellent, sobering example of what so many people of color have experienced. Parents should watch it first before deciding if their younger children should watch it.
The short videos produced by Phil Vischer (former Veggie Tales guy) are fantastic.
Social Media
Whom you follow on social media will often frame the way you see issues. I think it's way more influential than we probably realize. I'd encourage you to follow Benjamin Watson, Rich Villodas, Jemar Tisby, Austin Channing Brown, Sean Palmer, Lecrae, Matthew Soerens, Jenny Yang, Justin Gibbony, Latasha Morrison, and Carlos Whittaker.
Podcasts
Footnotes, Jemar Tisby
Jude 3 Project (theology podcast led by Lisa Fields)
The New Activist Podcast (by International Justice Mission) has excellent guests and topics related to justice issues.
Tony Evans
The Church Politics Podcast helps Christians see political issues through the eyes of Christ.
Be The Bridge, Latasha Morrison
*You can read more detailed reviews of several of these books from my "Favorite Books" post.