Watch sports like an idiot
Written by Brian Jennings, Posted in Lead Yourself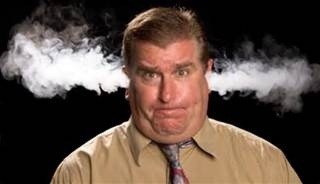 Many of you will be watching lots of college football over the next few days. If you woke up this morning, pondering how you could watch the games like an idiot, here's some ideas:
Avoid Multitasking: You'll be considered quite reasonable if you give your attention to one big game, so you'll need to stretch it out all day without doing a single productive thing. As you watch the game, be sure to avoid building Legos with your kids, shredding old receipts, folding laundry or running on the treadmill. Try to make your spouse and kids resent sports. (Schmoe: "I don't have a gym membership." Joe: "Any gym will let you come once for free." Schmoe: "I'm too stressed when I watch the game." Joe: "You won't be when you are on the treadmill." Schmoe: Shut up.")
Keep watching and screaming, even if your team is getting annihilated. Also, if you open a carton of spoiled milk, you should drink it all. To quit drinking it would be disrespectful to the cows.
Make a huge deal about which college conference is better. Please, squeeze more fun out of sports. You'll either sound like an arrogant brat or a whiner with an inferiority complex – really, it's one or the other, so go for it. You'll love scouring the globe for any piece of evidence to support your theory that the Pac12 has better wide receivers than the SEC, and that the Big10 has more ridiculous fans than the Big12. Now, don't be confused about which conference to which I'm referring. Obviously, The Big10 has 14 teams and The Big12 has 10 teams, because marketing trumps math. Oh, and be sure to post stories on social media of when your least favorite team's star player gets a speeding ticket, but don't mention anything about when your team's star quarterback ransacks an innocent village of women and children.
We can do this. Together, we can be sports-watching-idiots. Good luck.
(For a serious look at how you can honor God with your sports, I devote a chapter to it in this book.)