Unarmed Empire (a review of Sean Palmer's new book)
Written by Brian Jennings, Posted in Your World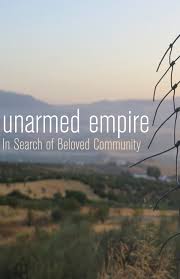 Sean Palmers new book, Unarmed Empire, will blow you off your feet, but it will catch you before you hit the ground.
I don't mind hearing a critique of the church from someone completely committed to her. Sean is completely committed to the church. I know this from his writings and I know this from his life. It's become popular to critique the church for the purpose of tearing her down. Sean's goal is to lift her up. Just don't be surprised if the work of lifting the church gets your boots muddy. And maybe your pants and shirt too.
Sean begs the church to be lifted-up by laying down the world's weapons of choice – things like power, control, greed and moral arrogance. He stacks his case with layers of Bible teaching. Jonah armed himself with prejudicial revenge, in spite of God's clear command. He writes, "It is possible, to know who God is and what God is doing, but exclude yourself from joining it. It is the definition of anti-Christ." The Pharisees hated Jesus for including outsiders in God's story of love. Paul, on the other hand, gave his life to pleading for people to choose The Kingdom over their petty armed kingdoms.
Every other empire will gladly load bullets in your gun. Yet every other empire will eventually be revealed as both fraudulent and hopeless. If you find yourself tired from fruitless fights, questioning the gap between Jesus' teachings and your own life, and jaded from trying to beat our culture with a religious stick, it's time you pledge your allegiance to Jesus. You'll find life and you'll give it too. Those in the Unarmed Empire will find life by laying it down.
Note: Sean sent me an advance copy of the unedited manuscript. I've ordered the book and can't wait to read it again.